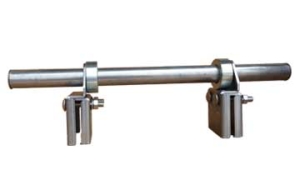 Exposed Fastener Metal Roofs
Trapezoidal Metal Roofs
Shingle Roofs
Slate Roofs
Wood Shake Roofs
Single rail standing seam metal roof clamps
Double rail standing seam metal roof clamps
1″ OD Pipe

8′ or 10′ lengths
8′ lengths are recommended for small jobs to reduce shipping costs

Pipe collars
End caps
Couplers

Splicers 2 pipes seamlessly

2 Carriages Bolts (5/16 x 2″), 2 washers, 2 nuts per clamp
Snow (ice) flags 5 1/2″ L x 1″ W
About Standing Seam Snow Rail
Standing Seam Snow Rail
First bar will clear 2″
Single or double bar roof snow system
Carbon steel or stainless steel
Mill finish or powder coated
Standing seam snow rail is a pipe-style snow guard that retains snow on a standing seam metal roof. As a non-penetrating system, it has a distinct technique of pinching to the seams of standing seam panels using nuts, bolts and washers instead of setscrews. This is one of many reasons why architects, roofers and homeowners choose our snow retention system to complete their commercial or residential projects.
Architects, roofers and homeowners have said more about our clamp-on snow rail systems. Standing seam  device preferred by architects because it can be color coated to match any roof and is aesthetically appealing. Roofers say it is easy to install and is a reliable snow guard system. Lastly, homeowners enjoy the peace of mind and security our snow rail provides. Protecting your investments is our highest priority.
A standing seam snow rail should run the entire length of the roof. This maintains the integrity of the snow rail and utilizes its strength.
When seams are 18″ to 24″ apart snow flags should be used with this system. Snow flags are attached the the bottom rung of the rail facing up towards the ridge of the roof. Standing seam snow rail prevents a rooftop avalanche, but as the snow is melting, it can become small enough to slide underneath the rungs of the rail. As a result, large chucks of snow an ice can still fall off the roof. Gutters will not be ripped off, but the snow can hit someone in the head or bust a car window.