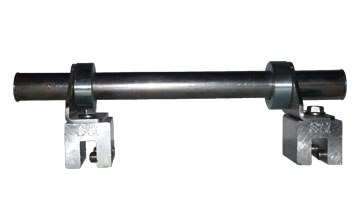 Any standing seam roof that works with the S-5 Mini clamp series
Some single rail systems utilize a single standard clamp such as the S-5-U, S-5-S, S-5-E and other standard clamps that have two top attachment points

S-5!® has recently announced the arrival of the DualGard™. Features of the DualGard™ include the following:
2 pipe snow rail system
Requires 2 mini roof clamps
Fulfills snow retention spec requirements called out by architects
Adds a unique aesthetics to the roofs as it can be color matched to the roof color
Tested more than any other rail system to keep rooftop snow loads from sliding off the roof
Will not void roof warranty
Use it on almost any type of metal roof
To add to the strength and integrity of the DualGard™ Sno Shield has modified their snow rail deck mounts to attach to S-5! standard and mini roof clamps. DualGard is a two pipe system. For those projects that require a single pipe or triple pipe system but want to use the high quality integrity and strength of S-5! roof clamp series, Sno Shield has a solution.
S-5!® / Sno Shield ™ Single, Double & Triple Snow Rail Systems
We have modified slightly our Deck Mount snow rail series to attach to the S-5 roof clamps. A variety of standard S-5! clamps have two holes on top. This makes it possible to attach a single rail system to most standing seam roofs using only one roof clamp instead of two mini clamps.
This will allow the customer to purchase less clamps
Less rail components will need to be powder coated
These two factors alone will any customer quite a bit of money. Single rail standard clamps include the S-5-U, S-5-S, S-5-V, S-5-E and any other roof clamp with two top attachment points.
In most cases customers are likely to use the DualGard™ for double pipe systems, but a the Sno Shield Double Deck mount is available to all customers and it maintains the same qualities as the DualGard™.
The S-5 / Sno Shield triple rail snow retention system will require two to three mini clamps depending on the strength needed in the snow rail system.
Power coat all single, double and triple snow rail to color match roof
Using the S-5! roof clamp series attach a single, double and triple rail system to almost any standing seam metal roof.
1″ pipe, end caps, collars, snow flags (snow clips), roof clamps  and deck mounts provided with each system