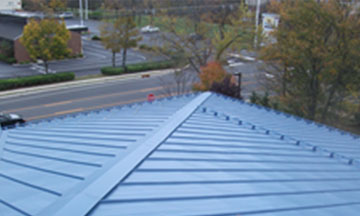 Pipe style snow rail for any type of roof – Standard or Customized – Plain or Powder Coated – Galvanized or Stainless Steel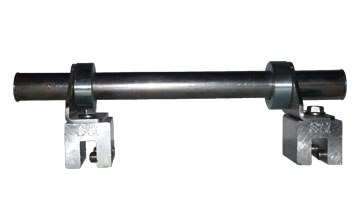 Snow retention snow rail that can be attached to almost any standing seam roof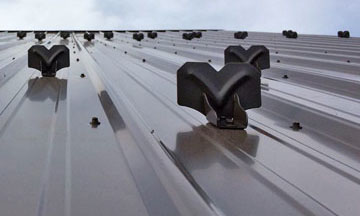 Metal or polycarbonate (plastic) snow guards – Installed with adhesive or screwed down into the roof – Purchase plain or powder coated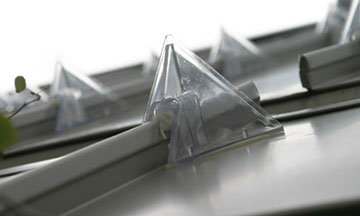 Metal or polycarbonate (plastic) snow guards – Clamps onto roof seam with no penetration – Purchase plain or powder coated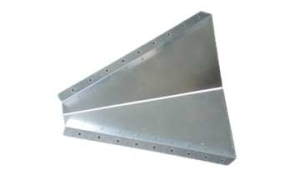 Protect rooftop protrusions (pipe vents, stove & chimney pipes) from snow sliding off the roof – Purchase galvanized or powder coated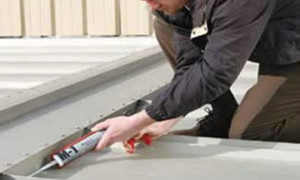 Sealants & adhesives for roofing, concrete/ masonry, vertical construction, mechanical contracting, interior construction and industrial.
Snow Guards Metal Roof & Other Roof Types
Snow guards (snow stops) are not only for metal roofs. Use snow guards on a variety of roofs: metal, slate, shingle, wood shake and more. If conditions are right, snow comes off any roof. If you are wondering how many snow stops you need for your roof, ask a roofer in the area, or call us for a snow guard layout recommendation. We will need to know basic things like: roof pitch, eave length, length of roof from ridge to eave, type of snow (slushy or ice) and the snow load for your area.
Snow falling from roofs is most commonly associated with metal roofs. When putting a metal roof on a home or building, the homeowner or the business owner will invest in snow stops, especially when installing gutters. More often than not, snow rips gutters from the roof edge when there is a rooftop avalanche (meaning all the snow coming off the roof at once). Apart from snow damaging the gutters, a rooftop avalanche will potentially barricade doorways, damage cars, hurt or kill someone or ruin landscaping. Avoid these dangerous situations by installing snow stops on the roof. If you are questioning whether or not you need snow guards; when in doubt, BUY SNOW GUARDS!