Like a large snow guard that diverts snow away from pipe extrusions on rooftops.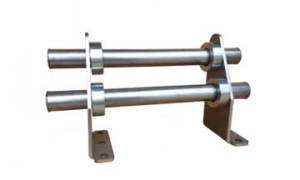 Available as a deck mount snow diverter or clamp-on snow diverter as to accommodate varying widths of metal seams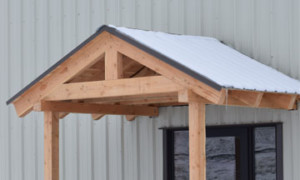 Keeps falling snow and ice from rooftops from barricading door ways. Use it in residential and commercial areas.
Snow Diverters have a variety of uses. Most keep rooftop protrusions from being ripped of the roof by sheets of snow and ice sliding off the roof. These includes stack and plumbing vent pipes, stove and chimney pipes, other pipe covers and any other type of pipe that sticks out of the roof.
The purpose of snow diverters are to split snow and ice apart as it slides down the roof towards the pipes. Snow diverters could be called roof snow splitters as well.
Snow retention is an important part of a roof, especially for metal roofs. That is why Sno Shield™ came up with a variety of snow diverters to accommodate most types of standing seam metal roofs, exposed-fastened roofs and asphalt shingle roofs. This is done using a variety of Sno Shield™ and S-5!® products.
INTRODUCING A NEW SNOW DIVERTER
Sno Shield™ introduces a new type of snow diverter; the Dormer Door Snow Diverter. It keeps falling snow and ice from rooftops from barricading doorways. Click on the product above to learn more about this product.