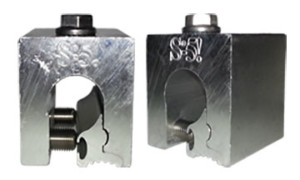 Standing Seam Metal Roof Panels with a "bulb" seam
Aluminum Roof Clamp
Stainless Steel Setscrews


Features Unique to the S-5-Z Clamp
Two piece design allows it to be installed anywhere on the roof
The S-5-Z clamp mini can be used with the S-5-PV (UL) Kit and the EdgeGrab™ to install solar panels on a metal roof

The S-5-Z clamp MINI is NOT used when installing S-5! snow retention products. ONLY use standard S-5 clamps.
Aluform System GmbH & Co. KG:

Alufalz; .8 mm & .1 mm alum
Interfalz; .8 mm & .1 mm alum

Ash & Lacy Building Systems:

AshZip; .040 alum
AshZip Embossed Aluminum; .040 alum

Bemo:

Bemo Roof; .032 & .040 alum, 24 ga steel

Berridge:
BHP:

Zip Rib; .032 & .040 alum, 24 ga steel

Coated Metals:

Ultra-Flange 1.5; 24 ga & 26 ga steel

Corus:

ALU-Seam; 1 mm alum
Kal Zip; .032 & .040 alum, 24 ga steel

Custom Bilt Metals:
Hoogovens Aluminum Building Systems:

Kal Zip; .032 & .040 alum, 24 ga steel

Merchant & Evans:

Zip Rib; .032, .040 & .050 alum, .8 mm & 1 mm Zinc

Premier Metals:

Standing Seam 1.5; 24 ga steel

Schlebach:

5 Nail Strip; 24 ga & 26 ga steel

Sheet Metal Supply LTD:

NS-1.5; 24 ga & 26 ga steel

SpeedDeck Building Systems:
Tegral Metal Forming:

Tegnal Alu-Seam; .9 mm alum

Zimmerman Metals, Inc.:
Aluform System GmbH & Co. KG:

Alufalz; .8 mm & .1 mm alum
Interfalz; .8 mm & .1 mm alum

Ash & Lacy Building Systems:

AshZip; .040 alum
AshZip Embossed Aluminum; .040 alum

Bemo:
Berridge:

Cee-Lock; 24 ga steel
High Seam Tee-Panel; 24 ga steel

Coated Metals:

Ultra-Flange 1.5; 24 ga & 26 ga steel

Corus:
Custom Bilt Metals:
Dimond:

Dimondek 400; 24 ga steel

Merchant & Evans:

Zip Rib; .050 alum, .8 mm & 1 mm Zinc, 22 ga steel

Premier Metals:

Standing Seam 1.5; 24 ga steel

Schlebach:

5 Nail Strip; 24 ga & 26 ga steel

Sheet Metal Supply LTD:

NS-1.5; 24 ga & 26 ga steel

Tegral Metal Forming:

Tegnal Alu-Seam; .9 mm alum

Zimmerman Metals, Inc.: