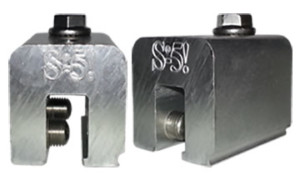 Standing Seam Metal Roof Panels
Trapezoidal Panel
Aluminum Roof Clamp
Stainless Steel Setscrews


Features Unique to the S-5-V Clamp
Fits vertically folded seam profiles
Similar to the S-5-U clamp except it does NOT fit horizontal seam profiles
The S-5-V clamp is a little cheaper than the S-5-U clamp
The S-5-V clamp mini can be used with the S-5-PV (UL) Kit and the EdgeGrab™ to install solar panels on a metal roof

The S-5-V clamp MINI is NOT used when installing S-5! snow retention products. ONLY use standard S-5 clamps.
The S-5-V clamp and the S-5-S clamp are used as an affordable alternative to using the S-5-U clamp. The S-5-V clamp is just as strong, but a more simple design. Together, along with the S-5-H clamp, these clamps fit the same variety of standing seam panel profiles as the S-5-U clamps. When in doubt about the functionality of the S-5-V clamp on a particular seam, call Sno Shield and we will be glad to help.
A&S:

Double-Lok; 22 ga & 24 ga steel
DuraSeal Seam; 22 ga & 24 ga steel
DuraSeal Snap; 22 & 24 ga steel
Ultra Dek ;22 ga & 24 ga steel
AEP Span:

Multilok (Quad Lok); 24 ga steel
Span Seam (DBF); 22 ga & 24 ga steel

American Buildings Company:

Standing Seam 360; 22 ga & 24 ga steel

ATAS

2" Field-Lok; 24 ga steel

Bax Steel Buildings, Inc. :

Bax-Lock; 22 ga & 24 ga steel

BC Steel Buldings:

BCL 24-MS; 22 ga & 24 ga steel
BCL 24-SD; 22 ga & 24 ga steel

Berridge:

Zee-Lock (Double Fold); 24 ga steel

Bryer Company:

TBC-Superseam (Double Fold); 22 ga & 24 ga steel

Butler:
Carlisle Engineered Metals, Inc:

VersaLok Panel; 22 ga & 24 ga steel

CBC Steel Buildings:
Ceco:
Central States Manufacturing:

Central Loc; 22 ga & 24 ga steel
Central Seam Plus; 22 ga & 24 ga steel

Chief industries:

MSC Panel; 22 ga & 24 ga steel
STC Panel 22 ga & 24 ga steel

Construction Metals, Inc:

Barrier Roof; 22 ga & 24 ga steel
Sur-Lock 22 ga & 24 ga steel

Copper Sales:
Corle Building Systems:

Seam-Lok; 22 ga & 24 ga steel
Snap-Seal; 22 ga & 24 ga steel

Dean Steel Buildings, Inc:

Pro Seam Panel 22 ga & 24 ga steel

Dimensional Metals:

DL-15; 24 ga steel
SL-20; 24 ga steel
SL-25; 22 ga & 24 ga steel

Drexel Metals:

DMC 200S 2" Double Fold; 22 ga & 24 ga steel

Englert:

Series 2400 (Double Fold); .032 alum, 22 ga & 24 ga steel
Series 2500 (Double Fold); .032 alum, 22 ga & 24 ga steel

Fab Tech, Inc.:

Seam-Lok; 22 ga & 24 ga steel
Snap-Seal; 24 ga steel

Fabral:

3" Snap Rib; 24 ga steel
Stand N Seam; .032 & .040 alum, 24 ga steel

Firestone:
Galvak, S.A. De C.V. :

Galvalok I; 22 ga & 24 ga steel
Galvalok II; 22 ga & 24 ga steel

Garco Building Systems:

Garco Standing Seam; 22 ga & 24 ga steel

KBS:

KR 24 2" Double Lock; 24 ga steel

Laura Star-Roof, BV:

Span Lock; 22 ga & 24 ga steel

MBCI:

DoubleLock; 22 ga & 24 ga steel
SuperLok; 22 ga & 24 ga steel
UltraDek; 22 ga & 24 ga steel

McElroy:

Master-Lok 90 (ML90): 22 ga & 24 ga steel
Maxima 1.5": 22 ga & 24 ga steel
Maxima 2" ADV; 22 ga & 24 ga steel
ML-FS; 22 ga & 24 ga steel

Merchant & Evans:

Zip-Lok 2 (Double Fold); 24 ga steel

Mesco:

Double-Lok; 22 ga & 24 ga steel

Metal Sales:

Seam-Loc; 24 ga steel
Snap-Loc; 24 ga steel

Morin:
NCI/Midwest Metallic:

Double-Lok; 22 ga & 24 ga steel
Ultra Dek; 22 ga & 24 ga steel
Weather Roof II; 22 ga & 24 ga steel
Weather Roof III; 22 ga & 24 ga steel

New Tech Machinery:

SS 200 (Single Fold); 24 ga steel
SS 210A (Armco Style); 22 ga & 24 ga steel
SS 550 Snap Lock 1 ½; 24 ga steel
SS 675 Snap Lock 1 ¾; .032 alum, 24 ga steel

Nucor Building Systems:

CFR Vise Lock 360 Seam; 24 ga steel

Peterson Aluminum Corp:

Tite-Loc Plus; 22 ga & 24 ga steel

Rigid Global Buildings:

HI-Tech Series Quad-Lok; 24 ga steel
Platinum Series Quad-Lok; 24 ga steel

Robertson Building Systems:

Starshield-SSR; 24 ga steel

Star:
Steel Tile:

Standing Seam 1.5"; 26 ga steel

Steelco:

Sur-Lock; 22 ga & 24 ga steel

Steelway Buildings Systems:

RTL-24 Quad Loc; 22 ga & 24 ga steel

Tremco:

TremLock LSP; 22 ga & 24 ga steel

Una-Clad:
United Structures of America

Guardian II; 22 ga & 24 ga steel

Varco Pruden:

HWR; 24 ga steel
SSR; 24 ga steel

Whirlwind Buildings Systems:

Super Seam Plus; 22 ga & 24 ga steel

Zamil Steel Industries:

Max Seam; 22 ga & 24 ga steel
AEP Span:

Span Seam (DBF); 22 ga & 24 ga steel

American Buildings Company:

Loc Seam 360; 22 ga & 24 ga steel

Bax Steel Buildings, Inc. :

Bax-Lock; 22 ga & 24 ga steel

BC Steel Buldings:
Berridge:

Zee-Lock Double Fold; 24 ga steel

Bigbee Steel Buildings, Inc.:

BigbeeLok-324; 24 ga steel
BigbeeVR-218 QuadLok; 24 ga steel

Bryer Company:

TBC-Superseam (Double Fold); .032 alum, 22 ga & 24 ga steel

Butler:
Ceco:
Central States Manufacturing:

Central Loc; 22 ga & 24 ga steel
Central Seam Plus; 22 ga & 24 ga steel

Corle Building Systems:
Dimensional Metals:
Drexel Metals:

DMC 200S 2" Double Fold; 24 ga steel
DMC 210S (Armco Style DBF); .032 alum, 24 ga steel

Englert:

Series 2400 (DBF); .032 alum, 22 ga & 24 ga steel
Series 2500 (Double Fold); .032 alum, 24 ga steel

Fab Tech, Inc.:

Seam-Lok; 22 ga & 24 ga steel
Snap-Seal; 24 ga steel

Fabral:

Stand N Seam; .032 & .040 alum, 24 ga steel

KBS:

KR 24 2" Double Lock; 24 ga steel

Laura Star-Roof, BV:
MBCI:

Double-Lok; 22 ga & 24 ga steel
Superlok; 22 ga & 24 ga steel
Ultra-Dek; 22 ga & 24 ga steel

McElroy:

Master Lok-FS ML-FS; 22 ga & 24 ga steel
Master-Lok 90; 22 ga & 24 ga steel
Maxima 1.5": 22 ga & 24 ga steel
Maxima 2" ADV; 22 ga & 24 ga steel

Merchant & Evans:

Zip-Lok 2 (Double Fold); 24 ga steel

Mesco:
Metal Sales:

Seam-Loc; 24 ga steel
Snap-Loc; 24 ga steel

Metal-Fab Manufacturing:

MetFab III Panel (DBF); .032 alum, 24 ga steel

Morin:
NCI/Midwest Metallic:

Weather Roof II; 24 ga steel
Weather Roof III; 22 ga steel

New Tech Machinery:

SS 210A (Double Fold); .032 alum, 24 ga steel

Nucor Building Systems:

CFR Vise-Lock 360 Seam; 24 ga steel
VR 16-II Vise-Lock 360; 24 ga steel

Peterson Aluminum Corp:

Tite-Loc Plus; 22 ga steel

Rigid Global Buildings:

HI-Tech Series Quad-Lok; 24 ga steel
Platinum Series Quad-Lok; 24 ga steel

Robertson Building Systems:

Starshield-SSR; 24 ga steel

Steel Tile:

Standing Seam 1.5"; 26 ga steel

Tremco:

TremLock LSP; 22 ga & 24 ga steel

United Structures of America

Guardian II; 22 ga & 24 ga steel