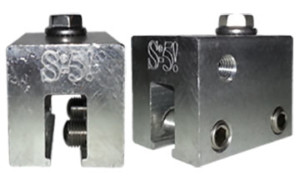 Fits most standing seam metal roofs
Aluminum Roof Clamp
Stainless Steel Setscrews


With the S-5-U clamp, oval-point setscrews were developed. With over 30 years in the roofing industry, Rob Haddock knows how damaging cup-point setscrews can be to a standing seam metal roof. Cup-point setscrews: peel paint, expose the bare steel of the metal roof and cause premature rusting, that could potential void a roof warranty. The Metal Building Manufactures Association (MBMA) has expressed, "Any attendant setscrews that secure the clamp to the seam should have a rounded point (not cup point) so that gouging, or breaching of the metallic coating is avoided" (Metal Roofing Systems Design Manual; Second Edition; Copyright 2012; Section 7.7.1 Fasteners). That being said, oval-point setscrews will still cause a slight dimple in the seam of the roof. The S-5-U clamp and the other S-5!® roof clamps have been strategically designed to do this as to create a mechanical lock as to increase the holding power of the clamps
Features Unique to the S-5-U Clamp
The S-5-U clamp is the most popular and most versatile roof clip
Used on 85% of the standing seam profiles manufactured in North America
Used on vertically oriented seam
Used on most horizontal 2" seam profiles by rotating the clamp 90 degrees

For horizontal seams under 0.65", do not use this clamp

Some panels may need to be modified before using the S-5-U clamp.
S-5-U clamp is most commonly used to install ColorGard® and X-Gard™
The S-5-U clamp mini can be used with the S-5-PV (UL) Kit and the EdgeGrab™ to install solar panels on a metal roof

The S-5-U clamp MINI is NOT used when installing S-5! snow retention products. ONLY use standard S-5 clamps.
The S-5-U Clamp os the most versatile roof clamp of all the S-5!® clamp series. Being the first roof clamp, and most successful, developed by S-5!® founder Rob Haddock; the S-5-U clamp is meant to be user friendly. It can be used by almost anyone for almost any project that requires an object to be attached to a standing seam metal roof or wall fascia.
Rob Haddock developed the S-5-U clamp with these things in mind.
People are always trying to attach something to a metal roof. This would include: HVAC equipment, screen and piping, walkways, plumbing vents, satellite dishes, snow retention systems, solar collectors, advertising signage, fall-protection systems, etc. Solution: the S-5-U clamp
Despite what needs to installed on a metal roof, roof penetration should be avoided whenever possible. Solution: the S-5-U clamp
Instead of the seams of a metal roof being a convenient way to connect metal panels to each other, why not have it be a place to attach an anchoring mechanism. Solution: the S-5-U clamp
Clamps should be made from non-corrosive metals. Aluminum and stainless steel are compatible with every metal except copper. In that case a brass roof clamp has been developed. Solution: the S-5-U clamp
A roof clamp should form to the profile and seam folding. The S-5-U clamp has been very successful over the last twenty years, but without the rest of the S-5! clamp family only a fraction of metal roofs could be serviced with such a revolutionary invention. Solution: the S-5-U clamp
(Haddock, Rob. "Metal Roofing from A to Z – Part VII." Pgs. 41-42)
A&S:

Double-Lok; 22 ga & 24 ga steel
DuraSeal Seam; 22 ga & 24 ga steel
DuraSeal Snap; 22 & 24 ga steel
Ultra Dek ;22 ga & 24 ga steel
AB Martin Roofing:

AB Seam 1; 24 ga steel
AB Seam 19.5; 24 ga steel

AEP Span:

Design Span hp; 22 ga & 24 ga steel
High Seam; 24 ga steel
Multilok (Quad Lok); 24 ga steel
Multilok (Triple Lok); 24 ga steel
Snap Seam; 22 ga & 24 ga steel
Span Lok HP 2" SF; 22 ga & 24 ga steel
Span Seam (DBF); 22 ga & 24 ga steel

American Buildings Company:

Loc Seam; 24 ga steel
Loc Seam; 260 22 ga & 24 ga steel
Standing Seam 360; 22 ga & 24 ga steel
Standing Seam II Panel; 22 ga & 24 ga steel

Architectural Building Components

Permaseam; 22 ga & 24 ga steel

Architectural Metal Products

Ultra Seam US 200S; .040 alum, 22 ga & 24 ga steel

Architectural Metal Specialties Inc.

AMS175 1-3/4" Snap-Lock; 22 ga & 24 ga steel
AMS200 2" Mechanical Lock; .040 alum, 22 ga & 24 ga steel
Ultraseam US 200S 2" Mechanical Lock 90 degree; .040 alum, 22 ga & 24 ga steel
Ultraseam US175LS Snap-Lock; 22ga & 24 ga steel

ASC Building Products

Sterling Roof System; 22 ga & 24 ga steel

Associated Building Systems
ATAS

2 3/8" Field-Lok (FLS); .032 alum & 24 ga steel

Bax Steel Buildings, Inc. :

Bax-Lock; 22 ga & 24 ga steel

BC Steel Buldings:

BCL 24-MS; 22 ga & 24 ga steel
BCL 24-SD; 22 ga & 24 ga steel

Behlen Buildings Systems:

ZL-16 Triple-Lock; 22 ga & 24 ga steel
ZL-24 Triple-Lock; 24 ga steel

Berridge:

Cee-Lock; 24 ga steel
Tee Panel; 24 ga steel
Zee-Lock (Double Fold); 24 ga steel

Blazer industries:
Bryer Company:

TBC-Superseam (Double Fold); 22 ga & 24 ga steel
TBC-Superseam (Single Fold); 22 ga & 24 ga steel
TBC-Ultra; 22 ga & 24 ga steel

Butler:

Genesis360; 24 ga steel
MR24; 24 ga steel
VSR; 24 ga steel

Carlisle Engineered Metals, Inc:

Architectural Panel; 22 ga & 24 ga sttel
VersaLok Panel; 22 ga & 24 ga steel

CBC Steel Buildings:
Ceco:

CRP; 24 ga steel
CXP; 22 & 24 ga steel

Central States Manufacturing:

Central Loc; 22 ga & 24 ga steel
Central Seam Plus; 22 ga & 24 ga steel

Central Texas Metal Roofing Supply:
Centria:

ADP 100; .032 & .040 alum, 24 ga steel
SDP 175; 22 ga & 24 ga steel
SDP 200; 24 ga steel
SDP 300; 24 ga steel

Chief industries:

MSC Panel; 22 ga & 24 ga steel
STC Panel 22 ga & 24 ga steel

Coated Metals:

Ultra Span Panel (SF); 24 ga steel

Construction Metals, Inc:

Barrier Roof; 22 ga & 24 ga steel
Sur-Lock 22 ga & 24 ga steel

Copper Sales:

UC4; 24 ga steel
UC6; 24 ga steel

Corle Building Systems:

Seam-Lok; 22 ga & 24 ga steel
Snap-Seal; 22 ga & 24 ga steel

Custom Buil Metals:

CB 2000 (Single Fold) NT; 24 ga steel
SL 1750 NT; .032 alum, 24 ga steel

Dean Steel Buildings, Inc:

Pro Seam Panel 22 ga & 24 ga steel

Dimensional Metals:

DL-15; 24 ga steel
IL-20; 22 ga & 24 ga steel
SL-20; 24 ga steel
SL-25; 22 ga & 24 ga steel

Drexel Metals:

DMC 175S Snap Lock 1-3/4; .032 alum, 24 ga steel
DMC 200S 2"; 24 ga steel
DMC 200S 2" Double Fold; 22 ga & 24 ga steel
DMC 210S (Armco Style); 22 ga & 24 ga steel

Englert:

Series 1500; .032 alum, 22 ga & 24 ga steel
Series 2000; .032 alum, 22 ga & 24 ga steel
Series 2400 (Double Fold); 22 ga & 24 ga steel
Series 2400 (Single Fold); 24 ga steel
Series 2500 (Double Fold); . 032 alum, 22 ga & 24 ga steel
Series 2500 (Single Fold); 24 ga steel

Fab Tech, Inc.:

Seam-Lok; 22 ga & 24 ga steel
Snap-Seal; 24 ga steel

Fabral:

Slim Seam; .032 alum, 24 ga steel
Stand N Seam; .032 & .040 alum, 24 ga steel
Thin Seam; 24 ga steel

Firestone:

UC4; 24 ga steel
UC6; 24 ga steel

Galvak, S.A. De C.V. :

Galvalok I; 22 ga & 24 ga steel
Galvalok II; 22 ga & 24 ga steel

Garco Building Systems:

Garco Standing Seam 24 ga steel

HPM Building Supply:

2 Custom Lock (Single Fold); 24 ga steel

Inland Buildings;
KBS:

KR 24 2" Double Lock; 24 ga steel
KR 24 2" Single Lock; 24 ga steel

Kingspan USA:

KingZip 1020; 22 ga & 24 ga steel

Kirby Buildings Systems:

Kirbylok 2000; 22 ga & 24 ga steel
Kirbylok 2000 MS; 22 ga & 24 ga steel

Knudson Building Systems:

KR 24 2" Double Lock
KR 24 2" Single Lock
KR-20; 24 ga steel

Laura Star-Roof, BV:

Artlock; 22 ga & 24 ga steel
Span Lock; 22 ga & 24 ga steel

Liberty Building Systems:
MBCI:

BattenLok; 22 ga & 24 ga steel
BattenLok HS; 22 ga & 24 ga steel
DoubleLock; 22 ga & 24 ga steel
LokSeam; 22 ga & 24 ga steel
SuperLok; 22 ga & 24 ga steel
UltraDek; 22 ga & 24 ga steel

McElroy:

Master-Lok 90 (ML90): 22 ga & 24 ga steel
Maxima 1.5": 22 ga & 24 ga steel
Maxima 2": 22 ga & 24 ga steel
Maxima 2" ADV; 22 ga & 24 ga steel
Medallion-Lok; 22 ga & 24 ga steel
ML-FS; 22 ga & 24 ga steel

Merchant & Evans:

#305; .032 & .040 alum, 24 ga steel
#306; .032 & .040 alum, 24 ga steel
Interlock; .032 & .040 alum, 24 ga steel
Zip-Lok 2 (Double Fold); 24 ga steel
Zip-Lok 2 (Single Fold); 24 ga steel

Mesco:

Double-Lok; 22 ga & 24 ga steel
Ultra Dek; 22 ga & 24 ga steel

Metal Sales:

1" Mini Batten; 22 ga steel
Magna Loc; 22 ga & 24 ga steel
Seam-Loc; 24 ga steel
Snap-Loc; 24 ga steel
Vertical Seam; 22 ga & 24 ga steel

Metal-Fab Manufacturing:

MetFab III panel; 22 ga & 24 ga steel
MetFab Snap-on 550 Panel; 24 ga steel
MetFab Snap-on 675; .032 alum, 22 ga steel & 24 ga steel

Meti-Span:
Morin:
NCI/Midwest Metallic:

216; 22 ga & 24 ga steel
BattenLok; 22 ga & 24 ga steel
Double-Lok; 22 ga & 24 ga steel
Ultra Dek; 22 ga & 24 ga steel
Weather Roof II; 22 ga & 24 ga steel
Weather Roof III; 22 ga & 24 ga steel

New Tech Machinery:

SS 200 (Single Fold); 24 ga steel
SS 210A (Armco Style); 22 ga & 24 ga steel
SS 550 Snap Lock 1 ½; 24 ga steel
SS 675 Snap Lock 1 ¾; .032 alum, 24 ga steel

Nu Ray Metals:

Series 1000 Standing Seam; 24 ga & 26 ga steel
CFR Vise Lock 180 Seam; 24 ga steel
CFR Vise Lock 360 Seam; 24 ga steel
VR 16-II Vise-Lock; 24 ga steel
VR 16-II Vise-Lock 360; 24 ga steel

OC Metals;
Peterson Aluminum Corp:

Redi Roof; 24 ga steel
Snap Clad; 22 ga & 24 ga steel
Snap-On Standing Seam; .032 & .040 alum, 24 ga steel
Tite-Loc; 22 ga & 24 ga steel
Tite-Loc Plus; 22 ga & 24 ga steel

Rigid Global Buildings:

HI-Tech Series Quad-Lok; 24 ga steel
HI-Tech Series Trip-Lok; 24 ga seel
Platinum Series Quad-Lok; 24 ga steel
Platinum Series Trip-Lok; 24 ga steel

Robertson Building Systems:

Starshield-SSR; 24 ga steel

Schulte Building Systems:

TS-324 TripleLok; 24 ga steel

Sheet Metal Supply LTD:
Star:
Steel Span, INC

Architectural; 22 ga & 24 ga steel
Trapezoidal; 24 ga & 24 ga steel

Steel Tile:

Standing Seam 1.5"; 26 ga steel

Steelco:

Barrier Roof Panels; 22 ga & 24 ga steel
Sur-Lock; 22 ga & 24 ga steel

Steelway Buildings Systems:

RTL-24 Quad Loc; 22 ga & 24 ga steel
RTL-24 Triple Loc; 22 ga & 24 ga steel

Taylor Metals:

MS 200; 22 ga & 24 ga steel
Versa-Span; 22 ga & 24 ga steel

Tomen Building Components:

No 305 Panel; 24 ga steel

Tremco:

TremLock LSP; 22 ga & 24 ga steel
TremLock VP; .032 alum 22 ga & 24 ga steel

Triad Corrugated Metal, Inc.

Snap Lock 1-3/4; 24 ga steel

S. Metals:

US-175LS; 22 ga & 24 ga steel

Una-Clad:

UC4; 24 ga steel
UC6; 24 ga steel

Union Corrugating Company:

ML200 (Single Fold); 24 ga steel
SL 150; 24 ga steel

United Structures of America

Guardian I; 22 ga & 24 ga steel
Guardian II; 22 ga & 24 ga steel

Varco Pruden:

HWR; 24 ga steel
SLR; 22 ga & 24 ga steel
SSR; 24 ga steel

Vic West Ca:

Tradition 100-4; 24 ga steel

Whirlwind Buildings Systems:

Super Seam II; 22 ga & 24 ga steel
Super Seam Plus; 22 ga & 24 ga steel

Zamil Steel Industries:

Max Seam; 22 ga & 24 ga steel

Zimmerman Metals, Inc. :

SL1750; 22 ga & 24 ga steel
A&S:

DuraSeal Seam; 24 ga steel
DuraSeal Snap; 24 ga steel
AEP Span:

Span Lok HP 2" SF; 22 ga & 24 ga steel
Span Seam; 22 ga & 24 ga steel

Altech Fabrication, Inc:

Structure-Lok; 22 ga steel
Tech-Seam; 24 ga steel

American Buildings Company:

Loc Seam; 22 ga & 24 ga steel
Loc Seam 360; 22 ga & 24 ga steel
Standing Seam 360; 22 ga & 24ga steel
Standing Seam II Panel; 22 ga & 24 ga steel

Architectural Metal Products

Ultra Seam US 200S; .040 alum, 22 ga & 24 ga steel

Architectural Metal Specialties Inc.

AMS175 1-3/4" Snap-Lock; .032 alum, 22 ga & 24 ga steel
AMS200 2" Mechanical Lock; .040 alum, 22 ga & 24 ga steel
Ultraseam US 200S 2" Mechanical Lock 90 degree; .040 alum, 22 ga & 24 ga steel
Ultraseam US175LS Snap-Lock; .032 alum, 22ga & 24 ga steel

Associated Building Systems

Krbylok 2000; 22 ga & 24 ga steel
Krbylock 2000-MS; 22 ga & 24 ga steel
Roof-Lok; 24 ga steel
Roof-Lok Plus; 22 ga steel

C. Steel Buildings:

BCL 24-SD; 22 ga & 24 ga steel
BCL 24MS; 22 ga & 24 ga steel

Bax Steel Buildings, Inc. :

Bax-Lock; 22 ga & 24 ga steel

BC Steel Buldings:

BCL 24-MS; 22 ga & 24 ga steel
BCL 24-SD; 22 ga & 24 ga steel

Behlen Buildings Systems:

ZL-24 Triple-Lock; 24 ga steel

Berridge:

Zee-Lock Double Fold; 24 ga steel

Bryer Company:

TBC-Superseam (Double Fold); .032 alum, 22 ga & 24 ga steel
TBC-Superseam (Single Fold); 24 ga steel

Butler:
Ceco:
Central States Manufacturing:

Central Loc; 22 ga & 24 ga steel
Central Seam Plus; 22 ga & 24 ga steel

Central Texas States Manufacturing:

ShurLoc 175; 22 ga & 24 ga steel

Chief industries:

MSC Panel; 22 ga & 24 ga steel
STC Panel 22 ga & 24 ga steel

Classic Roofing Systems:

CR-S 400 (Double Fold); 24 ga steel
CR-S 400 (Single Fold); 24 ga steel

Coated Metals:

Ultra Span Panel (SF); 24 ga steel

Corle Building Systems:
Custom Buil Metals:

CB 2000 (Single Fold) NT; 24 ga steel
SL 1750 NT; .032 alum, 22 ga & 24 ga steel

Dean Steel Buildings, Inc:

Pro Seam Panel 22 ga & 24 ga steel

Dimensional Metals:
Drexel Metals:

DMC 150SL; 24 ga steel
DMC 175S Snap Lock 1-3/4; .032 alum, 24 ga steel
DMC 200S 2"; 24 ga steel
DMC 200S 2" Double Fold; 24 ga steel
DMC 210S (Armco Style DBF); .032 alum, 24 ga steel

Englert:

Series 1500; .032 alum, 22 ga & 24 ga steel
Series 2000; .032 alum, 22 ga & 24 ga steel
Series 2400 (DBF); .032 alum, 22 ga & 24 ga steel
Series 2400 (SF); 24 ga steel
Series 2500 (DBF); . 032 alum, 24 ga steel
Series 2500 (SF); 24 ga steel

Fab Tech, Inc.:

Seam-Lok; 22 ga & 24 ga steel
Snap-Seal; 22 ga & 24 ga steel

Fabral:

IP Seam 3; 24 ga steel
Stand N Seam; .032 alum

GALVAK, S.A. De C.V. :

Galvalok I; 22 ga & 24 ga steel
Galvalok II; 22 ga & 24 ga steel

HPM Building Supply:

2 Custom Lock (Single Fold); 24 ga steel

Impol:

Grobgekoernt (Snap); 1mm alum

KBS:

KR 24 2" Double Lock; 24 ga steel
KR 24 2" Single Lock; 24 ga steel

Kingspan USA:

KingZip 1020; 22 ga & 24 ga steel

Knudson Building Systems:
Laura Star-Roof, BV:

Artlock; 24 ga steel
Span Lock; 22 ga steel

MBCI:

BattenLok HS; 24 ga steel
DoubleLock; 22 ga & 24 ga steel
LokSeam; 24 ga steel
SuperLok; 22 ga & 24 ga steel
UltraDek; 22 ga & 24 ga steel

McElroy:

Master Lok-FS ML-FS: 22 ga & 24 ga steel
Master-Lok 90; 22 ga & 24 ga steel
Maxima 1.5": 22 ga & 24 ga steel
Maxima 2": .023alum, 22 ga & 24 ga steel
Maxima 2" ADV; 22 ga & 24 ga steel
Medallion-Lok; 22 ga & 24 ga steel

Merchant & Evans:

Zip-Lok 2 (Double Fold); 24 ga steel
Zip-Lok 2 (Single Fold); 24 ga steel

Mesco:
Metal Sales:

Magna Loc; 22 ga & 24 ga steel
Seam-Loc; 24 ga steel
Snap-Loc; 24 ga steel
Vertical Seam; 22 ga steel

Metal-Fab Manufacturing:

MetFab III panel; 24 ga steel
MetFab III Panel (DBF); .032 alum, 24 ga steel
MetFab Snap-On 675; .032 alum, 22 ga steel & 24 ga steel

Meti-Span:
Morin:
NCI/Midwest Metallic:

216; 24 ga steel
Weather Roof II; 24 ga steel
Weather Roof III; 22 ga steel

New Tech Machinery:

SS 200 (Single Fold); 24 ga steel
SS 210A (Double Fold); .032 alum, 24 ga steel
SS 210A (Single Fold); 24 ga steel
SS 450 SL; 24 ga steel
SS 675 Snap Lock 1 ¾; .032 alum, 22 ga & 24 ga steel

Nu Ray Metals:

Series 1000 Standing Seam; 24 ga & 26 ga steel
Sure Lock II 1-3/4; 24 ga steel
CFR Vise-Lock; 24 ga steel
CFR Vise-Lock 360; 24 ga steel
VR 16-II Vise-Lock; 24 ga steel
VR 16-II Vise-Lock 360; 24 ga steel

OC Metals;
Peterson Aluminum Corp:

Tite-Loc; 24 ga steel
Tite-Loc Plus; 22 ga steel

Rigid Global Buildings:

HI-Tech Series Quad-Lok; 24 ga steel
HI-Tech Series Trip-Lok; 24 ga seel
Platinum Series Quad-Lok; 24 ga steel
Platinum Series Trip-Lok; 24 ga steel

Robertson Building Systems:

Starshield-SSR; 24 ga steel

Schulte Building Systems:

TS-324 TripleLok; 24 ga steel

Sheet Metal Supply LTD:
Southwestern Sheet Metal Works:

SnapLoc; 22 ga steel
UlraLoc; 22 ga steel
UniLoc; 24 ga steel

Steel Tile:

Standing Seam 1.5"; 26 ga steel

Steelway Buildings Systems:

RTL-24 Quad Loc; 22 ga & 24 ga steel
RTL-24 Triple Loc; 22 ga & 24 ga steel

Taylor Metals:

MS 200; 24 ga steel
Versa-Span; 22 ga & 24 ga steel

Tremco:

TremLock LSP; 22 ga & 24 ga steel
TremLock VP; .032 alum, 22 ga & 24 ga steel

Union Corrugating Company:

ML200 (Single Fold); 24 ga steel

United Structures of America

Guardian I; 22 ga & 24 ga steel
Guardian II; 22 ga & 24 ga steel
Supreme-Lok; 22 ga steel
Sure-Lok; 24 ga steel

Varco Pruden:

HWR; 24 ga steel
SSR; 24 ga steel

Whirlwind Buildings Systems:

Super Seam II; 22 ga & 24 ga steel
Super Seam Plus; 22 ga & 24 ga steel