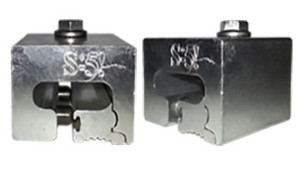 Aluminum Roof Clamp
Stainless Steel Setscrews


Features Unique to the S-5-T Clamp
Fits panel profiles with a "T" shapes seam configuration
Can be used on architectural "single-fold," or "angle-seam" profiles having a horizontal projection of 5/8" or less
Two piece design allows it to be installed anywhere on the seam
The S-5-T clamp mini can be used with the S-5-PV (UL) Kit and the EdgeGrab™ to install solar panels on a metal roof

The S-5-T clamp MINI is NOT used when installing S-5! snow retention products. ONLY use standard S-5 clamps.
Centria:

SDP-250; 24 ga steel
SRS-2; 20 ga, 22 ga & 24 ga steel
SRS-3; 20 ga, 22 ga & 24 ga steel

Englert:
Garland:

R-Mer Span; .032 & .040 alum, 22 ga steel, 24 ga SS steel

Imetco:

Series 300; 22 ga steel, 24 ga SS steel
Series 300-AL; .032 & .040 alum

Inland Buildings:
McElroy Metal:

138T; 22 ga & 24 ga steel
238T; 22 ga & 24 ga steel

Tremco:

TremLock T-138; 22 ga & 24 ga steel
TremLock T-238; 22 ga & 24 ga steel

Vic West Ca:

Tradition 150-4; 24 ga steel
Bahien Building Systems:

ZL-24 Triple-Lock; 24 ga steel

Berridge:

Zee-Lock (Single Fold); 24 ga steel

Butler:
Centria:

SRS-2; 20 ga, 22 ga & 24 ga steel
SRS-3; 20 ga, 22 ga & 24 ga steel

Garland:

R-Mer Span; .032 & .040 alum, 22 ga steel

Imetco:

Series 300; .032 & .040 alum, 22 ga steel

McElroy Metal:

138T; 22 ga & 24 ga steel
238T; 22 ga & 24 ga steel

Metal Sales:
Nucor Building Systems:

CFR Vise-Lock; 24 ga steel

Schulte Building Systems:

TS-324 TripleLok; 24 ga steel

Tremco:

TremLock T-138; 22 ga & 24 ga steel
TremLock T-238; 22 ga & 24 ga steel