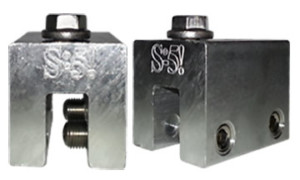 Standing Seam Metal Roof Panels with snap-together profiles

Snap-Lok
90 Mechanical Seam
Single-Lok

The finished seam must:

Be at least 1″ high
Have a height distance less than or equal to 0.25″ between the male portion of the panel and the female portion of the panel
Aluminum Roof Clamp
Stainless Steel Setscrews


Features Unique to the S-5-S Clamp
The S-5-S clamp is used on snap-together standing seam profiles
Used to avoid the crimping of seams on the following profiles:

Firestone
UC4
New Tech Machinery SS550 and SS675

Accommodates horizontal seams where the horizontal projection is under 0.54"
On many standing seam profiles the S-5-S clamp can be used instead of the S-5-U clamp

Is a cheaper metal roof clamp than the S-5-U

The S-5-S clamp mini can be used with the S-5-PV (UL) Kit and the EdgeGrab™ to install solar panels on a metal roof

The S-5-S clamp MINI is NOT used when installing S-5! snow retention products. ONLY use standard S-5 clamps.
The S-5-S Clamp by S5! ® is one of our most popular roof clamps. Along with the other S-5! standard clamps, it can be used to instal ColorGard ® or X-Gard ™. ColorGard is an effective snow roof system that can be used on almost any roof. X-Gard is the same except its purpose is to be a snow roof system for solar panels. One S-5-S Clamp is required per seam (or every other seam according to S-5! recommendations) while one to two S-5-S clamps would be needed to instal X-Gard™ on a roof.
Applicable applications for the S-5-S clamp mini include the installation of signs, walkways, solar racking, satellite dishes, antennas, HVAC units and other rooftop mechanical equipment, rooftop lighting, lightning protection systems, solar arrays, exhaust stack bracing, conduit, condensate lines and more.
The S-5-S clamp mini uses one set screw verses the two used in the standard clamp, and it is a little bit shorter than the S-5-S clamp.
AEP Span:

Design Span hp; 22 ga & 24 ga steel
Select Seam (Narrow Batten); 24 ga steel
Snap Seam; 22 ga & 24 ga steel

All Weather Insulated Panels (AWIP):

SR Series (Single Fold); 24 ga & 26 ga steel

Architectural Building Components:

Permaseam; 22 ga & 24 ga steel

ASC Building Products

Sterling Roof System; 22 ga & 24 ga steel

ATAS:

Dutch Seam (MRD-150); .032 & .040 alum, 24 ga steel

Berridge:
Champion Metal:
Classic Roofing Systems:

CR-S 25 (Single Fold); 22 ga & 24 ga steel
CR-S 38 (Single Fold); 22 ga & 24 ga steel

Coated Metals:

Ultra Snap Panel; 24 ga steel

Copper Sales:
Custom Bilt Metals:

CB 150 (Single Fold) NT; 24 ga steel
SLZ 1000; 24 ga steel

Delta Building Products:

1 Snap Lock (CC); .027 alum, 26 ga steel
5 Mechanical Lock (SF); .027 alum, 26 ga steel

Drexel metals:

450; 24 ga steel
450 SL; 24 ga steel
550S; 24 ga steel
DMC 100SS (Single Fold); 24 ga steel
DMC 150SL; 24 ga steel
DMC 150 SS (Single Fold); 24 ga steel
DMC 175S Snap Lock 1-3/4; 22 ga & 24 ga steel

Englert:

Series 1100; .032 alum
Series 1500; 24 ga steel
Series 2000; .032 alum & 24 ga steel

Fabral:

1-1/2 SSR; 24 ga steel
Climaguard; 24 ga steel
Slim Seam; .040 alum

Firestone:

UC14; 24 ga steel
UC4; 24 ga steel
UC7; 24 ga steel

Future Roof:

Snap Lock 1"; 26 ga steel

Garland:

R-Mer Loc; .032 & .040 alum, 22 ga & 24 ga steel

Haushaut:

25m Winkelstehfalz; 0.7 alum

HPM Building Supply:

5 Custom Lock (Single Fold); 24 ga steel
Shur-Lock; 22 ga & 24 ga steel
Shur-Lock Pro; 22 ga & 24 ga steel

Imetco:

PremLok 1-1/2; .032 & .040 alum, 22 ga & 24 ga steel
Snap Lock 1-3/4; .032 & .040 alum, 22 ga & 24 ga steel

Interlock Roofing:

Future Roof 1.5" SF; 26 ga stell
Snap Lock 1"; .027 alum

Jacobi:

JACOBIFALZ 38; 0.75mm steel

KBS:

1" Single Lock; 24 ga steel
5" Single Lock; 24 ga steel

MBCI:

LokSeam; 22 ga & 24 ga steel

McElroy Metal:

Medallion-Lok; 22 ga & 24 ga steel

Merchant & Evans:

Zip-Lok 1.5 (Single Fold); 24 ga steel

Met-Seam:

MSPro: 0.5mm Stainless, 0.7 alum, 0.7 Zinc

Metal-Fab Manufacturing:

MetFab Historic Panel – 1 (Single Fold); 24 ga steel
MetFab Historic Panel – 1.5 (Single Fold); 24 ga steel
MetFab Snap-on 550 Panel; 24 ga steel

Morin:
NedZink:

NATURAL 24mm (Single Fold); 0.7 Zinc

New Tech Machinery:

SS 100 (Single Fold); 24 ga steel
SS 150 (Single Fold); 24 ga steel
SS 450; 24 ga steel
SS 450 SL; 24 ga steel
SS 550 Snap Lock 1-1/2; 24 ga steel
SS 675 Snap Lock 1-3/4; 22 ga & 24 ga steel

Nu Ray Metals:

Series 1750 Standing Seam; 24 ga & 26 ga steel
Series 2000 Standing Seam; 24 ga & 26 ga steel

OC Metals:

OCM 100 MS (Single Fold); 24 ga steel
OCM 150 MS (Single Fold); 24 ga steel
OCM 150 SL; 24 ga steel
OCM 175 SL; 24 ga steel

Petersen Aluminum Corp:

Snap Clad; 22 ga & 24 ga steel

Premium Panels Inc:

Premium Snap 550; 24 ga steel

Reeh:
Sheet Metal Supply LTD:
Una-Clad:

UC14; 24 ga steel
UC4; 24 ga steel

Union Corrugating Company:

ML 150 (Single Fold); 24 ga steel

Vic West Ca:
AB Martin Roofing;

AB Seam 19.5; 24 ga steel

AEP Span:

Design Span hp; 22 ga & 24 ga steel
Snap Seam; 22 ga & 24 ga steel

All Weather Insulated Panels (AWIP):

SR Series (Single Fold); 24 ga & 26 ga steel

Armor Building Supply:

Armor Clip; 26 ga steel
Armor Lock; 26 ga steel

ASC Building Products

Sterling Roof System; 22 ga & 24 ga steel

ATAS:

Dutch Seam (MRD-150); .032 & .040 alum, 24 ga steel

Central Texas Metal Roofing Supply
Champion Metal:
Classic Roofing Systems:

CR-S 25 (Single Fold); 22 ga & 24 ga steel
CR-S 38 (Single Fold); 22 ga & 24 ga steel

Coated Metals:

Ultra Snap Panel; 24 ga steel

Copper Sales:
Custom Bilt Metals:

CB 150 (Single Fold) NT; 24 ga steel
SLZ 1000; 24 ga steel

Delta Building Products:

1 Snap Lock (CC); .027 alum, 26 ga steel
5 Mechanical Lock (SF); .027 alum, 26 ga steel

Drexel metals:

450; 24 ga steel
450 SL; 24 ga steel
DMC 100NS; 26 ga steel
DMC 100SS (Single Fold); 24 ga steel
DMC 150SL; 26 ga steel
DMC 150 SS (Single Fold); 24 ga steel
DMC 175S Snap Lock 1-3/4; 22 ga & 24 ga steel

Englert:

Series 1500; 24 ga steel
Series 2000; .032 alum & 24 ga steel

Everlast Roofing Inc;
Fabral:

1-1/2 SSR; 24 ga steel
Climaguard; 24 ga steel
Slim Seam; .040 alum

Firestone:

UC14; 24 ga steel
UC4; 24 ga steel

Future Roof:

Snap Lock 1"; 26 ga steel

Garland:

R-Mer Loc; .032 & .040 alum, 22 ga & 24 ga steel

Haushaut:

25m Winkelstehfalz; 0.7 alum

HPM Building Supply:

5 Custom Lock (Single Fold); 24 ga steel
Shur-Lock; 22 ga & 24 ga steel
Shur-Lock Pro; 22 ga & 24 ga steel

Imetco:

PremLok 1-1/2; .032 & .040 alum, 22 ga & 24 ga steel
Snap Lock 1-3/4; .032 & .040 alum, 22 ga & 24 ga steel

Interlock Roofing:

Future Roof 1" SF; .027 alum, 26 ga steel
Future Roof 1.5" SF; .027 alum, 26 ga steel
Snap Lock 1"; .027 alum

Jacobi:

JACOBIFALZ 38; 0.75mm steel

KBS:

1" Single Lock; 24 ga steel
5" Single Lock; 24 ga steel

MBCI:

LokSeam; 22 ga & 24 ga steel

McElroy Metal:

Medallion-Lok; 22 ga & 24 ga steel

Merchant & Evans:

Zip-Lok 1.5 (Single Fold); 24 ga steel

Metal Sales;

Vertical Seam; 24 ga steel

Metal-Fab Manufacturing:

MetFab Snap-on 400 Panel; 26 ga steel

Morin:
NedZink:

NATURAL 24mm (Single Fold); 0.7 Zinc

New Tech Machinery:

FF 100 (Nail Strip); 26 ga steel
SS 100 (Single Fold); 24 ga steel
SS 150 (Single Fold); 24 ga steel
SS 450; 24 ga steel
SS 450 SL; 24 ga & 26 ga steel
SS 675 Snap Lock 1-3/4; 22 ga & 24 ga steel

Nu Ray Metals:

Series 2000 Standing Seam; 24 ga

OC Metals:

OCM 100 MS (Single Fold); 24 ga steel
OCM 150 MS (Single Fold); 24 ga steel
OCM 150 SL; 26 ga steel
OCM 175 SL; 24 ga steel

Premium Panels Inc:

Premium Snap 550; 24 ga steel

Reeh:
Rolled Steel Products:
Sheet Metal Supply LTD:

SLF-1.5; 24 ga steel
SLF-1.75; 24 ga steel

Una-Clad:
Union Corrugating Company:

ML 150 (Single Fold); 24 ga steel
SL 150; 24 ga steel

Vic West Ca:
Zimmerman: