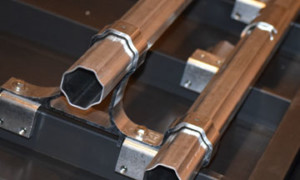 Aluminum snow retention for solar panels
One- or two- pipe system
Install on standing seam metal roofs using S-5! standard clamps
Superior holding strength

Provides better holding strength than individual cleats

Can be powder coated to match roof color
Can be retrofitted to existing roofs
Can be incorporated into new construction designs
Spans up to 48"
X-Gard™ calculator coming soon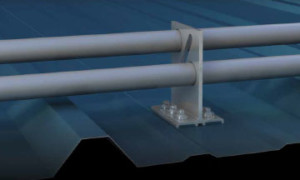 Compatible with trapezoidal & exposed-fastened panel profiles
Mount on the flat of the panel, directly into the supporting structure of the roof
No roof surface preparation
Factory applied butyl sealant to the bottom of the mount prevents leaks from occurring where the roof is penetrated by the screws
Is tested for load-to-failure results on wood decking, metal and wood perlins
6 holes are provided on the mount but as little as two can be utilized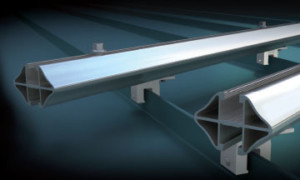 Utility Attachment Mounts
Theses mounts allow are used in correlation with the Dual Grip Strut to install things such as cabling, equipment screens, stack/flue bracing, lightning protections systems, roof walkways, gas piping, banners, signs, light fixtures, antennas, HVAC equipment, condensate lines, fascias, electrical conduit and any other conceivable utility application.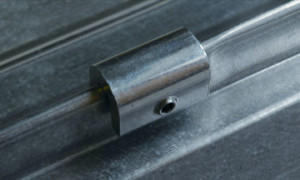 WindClamp™ DL & WindClamp™UD
Wind clamps are reduce the treat of wind uplift threatening to tear a metal roof from its mounting.
WindClamp™ DL and WindClamp™ UD

Increase wind resistance
Helps prevent roof mounting failure
Other S-5! Roof Mounting Products
Note that the Utility Attachment Mounts are S-5 roof mounting products that include the following accessories:
Dual Grip Strut
S-5-EF for double-fold standing seam panel profiles
S-5-USF for snap-together and machine-folded seams
S-5-ZF for bulb-shap panel profiles
S-5-FA

This is simply a flange piece that can be used with any S-5! mini clamp to accommodate for the seam profiles the S-5-EF, S-5-USF & the S-5-ZF will not attach to.