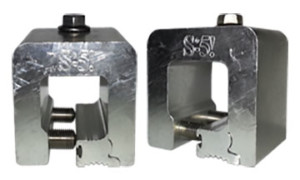 Standing Seam Metal Roof Panels with a "bulb" seam

Seam is circular or square
Aluminum Roof Clamp
Stainless Steel Setscrews


Features Unique to the S-5-Q Clamp
Accommodates standing seam metal roof panels having a large, round "bulb" seam configuration up to 29mm

Will fit smaller bulb-shaped profiles that were not seamed correctly
Seam does not need to be modified

This metal roof clamp is a two piece design that allows for easy installation
The S-5-Q clamp mini can be used with the S-5-PV (UL) Kit and the EdgeGrab™ to install solar panels on a metal roof

The S-5-Q clamp MINI is NOT used when installing S-5! snow retention products. ONLY use standard S-5 clamps.
Garland:

R-Mer Shield; .032, .040 & .050 alum, .8mm & 1mm Zinc, 22 ga &24 ga steel, 24 ga SS steel

Morin:

MorZip; .032 & .050 alum
SRP; 22ga &24 ga steel
Garland:

R-Mer Shield; .032, .040 & .050 alum, .8mm & 1mm Zinc, 22 ga &24 ga steel, 24 ga SS steel

Morin: