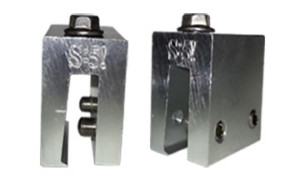 1.5″ Nail-strip Standing Seam Metal Roof
Aluminum Roof Clamp
Stainless Steel Setscrews


Features Unique of the S-5-N 1.5 Clamp
Clamp is wider at the base in order to be installed on 1.5" nail strip metal roof profiles
The need to crimp the rib of the roof is minimized as the angled nose of the metal roof clamp is better formed for nail strip and triangle-type profiles

For panel profiles similar to 1.5" nail strip request a sample as to prevent potential damage to the roof

The S-5-N 1.5 clamp mini can be used with the S-5-PV (UL) Kit and the EdgeGrab™ to install solar panels on a metal roof

The S-5-N 1.5 clamp MINI is NOT used when installing S-5! snow retention products. ONLY use standard S-5 clamps.
Coated Metals:

Ultra-Flange 1.5"; 24 ga steel

Delta Building Products:

5 Snap Lock (Nail-Strip); .027 alum, 26 ga steel

New Tech Machinery:

FF 150 (Nail Strip); 24 ga steel

Premier Metals:

Standing Seam 1.5; 24 ga steel

Sheet Metal Supply LTD:
Westform Metals:
WV Metal:
Delta Building Products:

5 Snap Lock (Nail-Strip); .027 alum, 26 ga steel

New Tech Machinery:

FF 150 (Nail Strip); 24 ga steel

Premier Metals:

Standing Seam 1.5; 24 ga steel

Sheet Metal Supply LTD:
Westform Metals:
WV Metal: