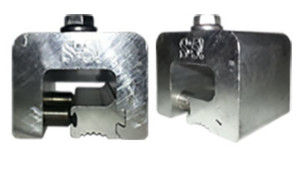 Metal Roof Panels with a horizontal seam
Zee-lock

Mechanically seamed sidelap
Aluminum Roof Clamp
Stainless Steel Setscrews


Features Unique of the S-5-H Clamp
Metal Roof clamp that can be attached to a horizontal seam on the vertical leg of the seam
Used on a horizontal seam when the S-5-U clamp cannot be used
Two piece design allows it to be attached anywhere on the rib
The S-5-H clamp mini can be used with the S-5-PV (UL) Kit and the EdgeGrab™ to install solar panels on a metal roof

The S-5-H clamp MINI is NOT used when installing S-5! snow retention products. ONLY use standard S-5 clamps.
Chief Industries:
Inland Buildings:

TS-324 Triple-Lock; 24 ga steel

New Tech Machinery:

SSQ 275 (Seamed); 24 ga steel

Rigid Global Buildings:

Platinum Series Trip-Lok; 24 ga steel

Schultz Building Systems:

TS-324 Triple-Lock; 24 ga steel
Chief Industries:
Inland Buildings:

TS-324 Triple-Lock; 24 ga steel

New Tech Machinery:

SSQ 275 (Seamed); 24 ga steel

Schultz Building Systems:

TS-324 Triple-Lock; 24 ga steel