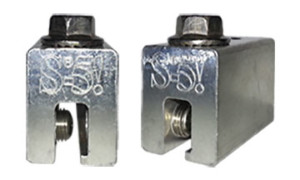 Double-folded Standing Seam Roof Profiles
Double-lock Standing Seam Roof Profiles
Aluminum Roof Clamp
Stainless Steel Setscrews


Features Unique of the S-5-E Clamp
S-5-E clamp can be applied on double-folded standing seam roof profiles

Is a metal roof clamp recommended for Butler's MR24™
For horizontal seam under.5" crimp the seam to 180 degrees at the desired clamp location

S-5-E clamp mini is smaller and less expensive than the S-5-U
The S-5-E clamp mini can be used with the S-5-PV (UL) Kit and the EdgeGrab™ to install solar panels on a metal roof

The S-5-E clamp MINI is NOT used when installing S-5! snow retention products. ONLY use standard S-5 clamps.
Alcan:

Falzonal (25mm DF SS); 0.7mm alum

ATAS:
Butler:

MR24; 22 ga & 24 ga steel

Coated Metals:

Ultra Seam Panel (DBF); 24 ga steel

Copper Sales:
Corus:

Falzinc (25mm DF SS); 0.7mm alum
Titansilber (25mm DF SS); 0.7mm alum

Custom Bilt Metals:

CB 100 (Double Fold) NT; 24 ga steel
CB 150 (Double Fold) NT; .032 alum, 22 ga & 24 ga steel

Delta Building Products:

5 Mechanical Lock (DBF); .027 alum, 22 ga steel

Drexel Metals:

DMC 100SS (Double Fold); 24 ga steel
DMC 150SS (Double Fold); .032 alum, 22 ga & 24 ga steel

Englert:

Series 1300; .032 alum, 22 ga & 24 ga steel

Ero-Clad:

Vieo 24mm (Double Fold); 0.7mm steel

Firestone:

UC3; .040 alum, 24 ga stel

Follansbe Steel;

1in (25mm) DF (TCS); .018 & 28 ga TCS II, 28 ga & 30 ga Terne II

Haushaut:

25mm Doppelstehfalz (DF); 0.7mm alum

HPM Building Supply:

5 Custom Lock (Double Fold); .032 alum, 22 ga & 24 ga steel

KBS:

1" Double Lock; 24 ga steel
5: Double Lock; 24 ga steel

Merchant & Evans:

Zip-Lok 1.5 (Double Fold); 24 ga steel

Metal Structures

MSI vs. 150 +50; 22 ga steel

Metal-Fab Manufacturing:

MetFab Historic Panel – 1" (DBF); 24 ga steel
MetFab Historic Panel – 1.5" (DBF); .032 alum, 22 ga & 24 ga steel

NedZink:

NATUREL 24mm (Double Fold); 0.7mm Zinc

New Tech Machinary:

SS 100 (Double Fold); 24 ga steel
SS 150 (Double Fold); .032 alum, 22 ga & 24 ga steel

Novelis:

Falzonal (25mm DF SS); 0.7mm alum

OC Metals:

OCM 100 MS (Double Fold); 24 ga steel
OCM 150 MS (Double Fold); 24 ga steel

Prefa:

Prefalz (25mm DF SS); 0.7mm alum

Rheinzink:

1" DF SS; .7mm & .8mm Zinc

Sheet Metal Supply LTD;

ML – 1.5 (DBF); 24 ga steel

Steel Tile;

Standing Seam 1.5" Mechanical; 26 ga steel

S. Metals:

US – 150; .032 alum, 22 ga & 24 ga steel

Umicore / VM Zinc:

Zinc 0.7 mm; 0.7mm
Zinc 0.8 mm; 0.8mm

Una-Clad:

UC3; .040 alum, 24 ga steel

Union Corrugating Company:

ML 150 (Double Fold); 22 ga & 24 ga steel

Zintec Srl:

24mm Double Standing Seam; 0.7mm & 0.8mm Zinc
38mm Double Standing Seam; 0.7mm & 0.8mm Zinc
Alcan / Novelis:

Falzonal (25mm DF SS); 0.7mm alum

Butler:
Coated Metals:

Ultra Seam Panel (DBF); 24 ga steel

Corus:

Falzinc (25mm DF SS); 0.7mm alum

Custom Bilt Metals:

CB 100 (Double Fold) NT; 24 ga steel
CB 150 (Double Fold) NT; .032 alum, 22 ga & 24 ga steel

Delta Building Products:

5 Mechanical Lock (DBF); .027 alum, 26 ga steel

Drexel Metals:

DMC 100SS (Double Fold); 24 ga steel
DMC 150SS (Double Fold); .032 alum, 22 ga & 24 ga steel

Englert:

Series 1300; .032 alum, 22 ga & 24 ga steel

Firestone:

UC3; .040 alum, 24 ga stel

Follansbee Steel;

1in (25mm) DF Klassie Kolors; 28 ga steel
1in (25mm) DF TCSII; 26 & 28 ga SS steel

Haushaut:

25mm Doppelstehfalz (DF); 0.7mm alum

Interlock Roofing:

Future Roof 1" DF; .027 alum, 26 ga steel
Future Roof 1.5" DF; .027 alum, 26 ga steel

KBS:

1" Double Lock; 24 ga steel
5: Double Lock; 24 ga steel

KME:

TECU-Zinn 25mm DFSS; 0.7mm Copper

Merchant & Evans:

Zip-Lok 1.5 (Double Fold); 24 ga steel

Metal Structures

MSI vs. 150 +50; 22 ga steel

Metal-Fab Manufacturing:

MetFab Historic Panel – 1.5" (DBF); .032 alum, 22 ga & 24 ga steel

NedZink:

NATUREL 24mm (Double Fold); 0.7mm Zinc

New Tech Machinary:

SS 100 (Double Fold); 24 ga steel
SS 150 (Double Fold); .032 alum, 22 ga & 24 ga steel

OC Metals:

OCM 100 MS (Double Fold); 24 ga steel
OCM 150 MS (Double Fold); 24 ga steel

Prefa:

Prefalz (25mm DF SS); 0.7mm alum

Rheinzink:

Preweathered 25mm DFSS; 0.8mm Zinc
Tizn 25mm DFSS; 0.7mm Zinc

Sheet Metal Supply LTD;

ML – 1.5 (DBF); 24 ga steel

Steel Tile:

Standing Seam 1.5" Mechanical; 26 ga steel

Uginox:

Uginox FTE 1; 0.5mm Stainless

Umicore / VM Zinc:

Tizn 25mm DFSS; 0.7mm Zinc

Una-Clad:

UC3; .040 alum, 24 ga steel

Union Corrugating Company:

ML 150 (Double Fold); 22 ga & 24 ga steel

Zintec Srl:

24mm Double Standing Seam; 0.7mm & 0.8mm Zinc
38mm Double Standing Seam; 0.7mm & 0.8mm Zinc