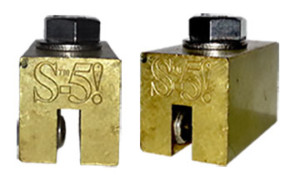 Coil-rolled Standing Seam Copper Panels
Brass Roof Clamp
Stainless Steel Setscrews


Features Unique of the S-5-B Brass Roof Clamp
When architects and roof designers choose a copper roof, the S-5-B brass roof clamp makes it possible to still install a roof guard system and other roof-mounted systems.
Brass roof clamp
Used on copper roof panels
Permanence and durability consistent with the copper roof panels
Can be applied on a double-folded copper standing seam panel and on batten profiles

Will fit over a panel seam of .24" or less

The S-5-B mini can be used with the S-5-PV (UL) Kit and the EdgeGrab™ to install solar panels on a metal roof

The S-5-B MINI is NOT used when installing S-5! snow retention products. ONLY use standard S-5 clamps.
KME:

TECu (25mm DF SS); 0.7mm Copper

Revere Copper:
KME:

TECu (25mm DF SS); 0.7mm Copper