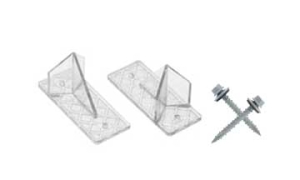 Exposed Fastener Metal Roofs
Trapezoidal Metal Roofs
Shingle Roofs
Slate Roofs
7/8″ Corrugated Roofs
Wood Shake Roofs

Mini Snow Guards
Peel and Stick Tape (when applicable)
Screws
ChemLink DuraSil Sealant or SureBond 190



Sno Shield's Mini snow guards are small pad-style snow retention devices used in light snow load areas. For some roofs where it is difficult to place large snow guards, this tiny snow guard can be applied. Being smaller, it contains all of the same engineering strength that the larger Panel Guard has, but again, it is more flexible for odd jobs.
Pad-style mini snow guards
3 11/16″ L x 1 1/2″ W x 2″ H
Mechanical – Predrilled holes for quick and easy mechanical fastening
Mechanical – 2 screws required for installation
Adhesive – About 30-35 mini snow stops can be applied per tube of adhesive

Chemlink M-1 Universal Adhesive or SB-190 Adhesive

Adhesive works best if applied in the warmer months with at least 12 consecutive days of 50 degree weather or more for at least 12 hours during the day.

Peel & Stick – Clear acrylic double-sided self-adhering tape already applied on the underside of the snow guard

Works best if applied in the warmer months

Virgin grade, clear poly-carbonate mini snow guard
Color options

Color injected poly-carbonate

Only available in large quantities

Used in light snow load areas or where little surface area is accessible
Acts as a barricade against falling snow and ice from metal roofs and other slick roofing surfaces
Helps prevent snow slides
Mini Snow Guards Mechanical Attachment
A mechanical attachment is the use of screws/fasteners to attach snow guards to the roof with a bead of silicone around the part to keep water from penetrating between the roof surface and the snow guard. In snow retention, this method of attachment is best used on a roof system that is already using exposed fasteners/screws. Out of the three pad-style snow guard application methods, a mechanically fastened system is usually the strongest system.
Mini Snow Guards Adhesive Mount
The key to an effective, adhesively mounted snow guard is in properly preparing the roof surface and installing it at the right time. A Panel Guard Snow Guard can be attached to a roof system using a caulk gun and SureBond 190 or Chemlink M-1 Universal Structural Adhesive. First make sure you are installing this snow retention product within the temperature limits and proper cure times provided by the adhesive mfg. Second, the roof must be cleaned with a non-corrosive agent such as Isopropyl Alcohol (rubbing alcohol). By paying attention to these factors, the SS Panel Guard Snow Guard, adhesive mount, will hold back the snow loads it is specified for.
Mini Snow Guards Peel and Stick
The term peel and stick is as simple as it sounds. The adhesive tape is applied in the manufacturing process leaving the part ready to install once the roof area is prepared for a proper adhesion. The roof surface must be cleaned with a non-corrosive agent such as Isopropyl Alcohol (rubbing alcohol). As with most snow guards a straight line of snow guards are stronger verses a staggered line, because it works uniformly as the snow puts pressure on the system. Multiple rows may be required when installing peel and stick snow guards.