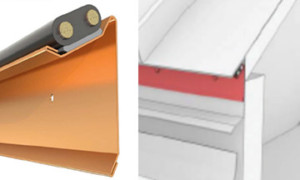 HotEdge Rail™
Heat cable
Screws
Commercial-grade adhesive

HotEdge Rail Roof Ice Melt System
HotEdge Rail roof ice melt system creates a raceway that holds a single run of self-regulating heat cable firmly against the bottom of the existing metal drip edge of most metal roof structures. This patent pending open raceway design conforms to the NEC (National Electrical Code) Article 426 and provides access for insertion, inspection and replacement. The heat generated by the heat cable is directly conducted to the existing metal drip edge. This helps prevent icicles and ice dams from forming in this critical area. When  a HotEdge Rail roof ice melt system is installed, no modifications are required to the existing metal roof.
Note: In all cases a 1″ minimum metal drip edge must be present for the HotEdge ice melt system to operate successfully.
Warning: Low cost, constant current heat cable must not be used. Only safety agency UL Listed, self-regulating ice and snow heat cable for structures that is provided with the system can be used.