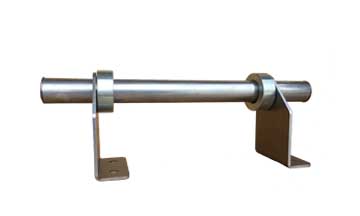 Exposed Fastener Metal Roofs
Trapezoidal Metal Roofs
Shingle Roofs
Slate Roofs
Wood Shake Roofs
Single deck mount railing brackets

2-1/2″ L x 1-1/4″ W x 4" H

Double deck mount railing brackets

3 5/8″ L x 1 1/4″ W x 6" H

Trip deck mount railing brackets

4 1/4″ L x 1 1/4″ W x 8" H

1" OD pipe (tubing)

8' or 10' lengths
8' lengths are recommended for small jobs to reduce shipping costs

Pipe collars
End caps
Couplers

Splices 2 pipes seamlessly

Single deck mount – 2 lag bolts per mount 5/16 x 2″
Double & Triple deck mount – 3 lag bolts per mount: 5/16 x 2"
Sealant is needed to seal the roof penetrations made by the lag bolts

DuraSil is available upon request

Snow (ice) flags 4-1/2″ L x 1-1/4" W



About These Snow Roof Systems
Pad-style snow fence
First bar will clear 2-1/2″
Single, double or triple bar roof snow system
Carbon steel, galvanized or stainless steel
Mill finish or powder coated
Sno Shield offers snow roof systems used on metal, slate, shingle and wood roofs. It is called a Deck Mount snow rail system because it bolts down into the roof surface. Also known as pipe-style snow guard, it is a continuous single, double or triple bar snow fence used to keep snow and ice from sliding off the roof.
Besides being a superior snow retention system, snow roof systems add safety as well as curb appeal to any commercial or residential property. Architects and roof designers would agree that in most instances, the roof is the capstone of a building or home much like the landscape is to the property as a whole. Protecting your investments is our highest priority.
Snow Roof Systems should run the entire length of the roof eave. It is important when possible to lag bolt the brackets to the truss or purlin beneath the sub decking. A deck mount snow fence is at its strongest when attached to the structural support system engineered for the roof and its intended snow load.
When structural supports are wider than sixteen to eighteen inches, one might consider the use of snow/ice flags. Snow/ice Flags attach to the pipe spanning between railing brackets and rest on the roof. A smaller space is created preventing large chunks of snow and ice from sliding underneath the rail system and causing potential harm and damage to anything below.
Installation Video – Coming Soon