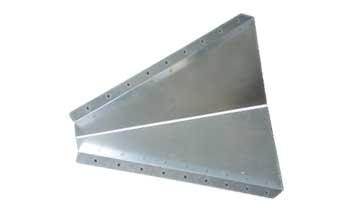 Sno Shield's Pipe Diverter is a pre made flashing that protects a wide variety of roof vents and piping penetrations. SS Pipe Diverter is a time tested and proven method to protect many protrusions extending upward from the roof from the destructive nature of snow slides. When a roof can properly shed its snow load, it leaves ventilation pipes exposed to an extreme shearing force known as a snowfield. As the snowfield approaches the SS Pipe Diverter, it splits the snow away from pipe vents or other protrusions before the snow rips them off.
Other names given to snow pipe diverters include: snow splitter, chimney cricket, vent saver, vent pipe snow guard and vent pipe protector.
About the Pipe Diverter
Measures: 16″ L x 14″ W x 11″ H
Has a 1 1/2″ flange with pre-lasered screw holes.
Made from 18 gauge steel
Mill finish or powder coated
Available in the following colors:

Green
Black
White
Medium Bronze

No assembly required
Accessories Included
#12 x 1 1/2 galvanized roofing screws
4ft of butyl tape
Diverts or deflects snow and ice from vent pipes that protrude from a roof and chimneys
Keeps the snow from ripping off stove pipe vents and other roof vents on metal roofs
Protects roof pipe up to 12″ in diameter
Installation instructions (under construction)
Installation video (under construction)
Please contact one of our distributors or Sno Shield Inc.
Brochure (under construction)