Metal Roof Snow Guards
Snow Guards for Metal Roofing
We offer the industry's most versatile line of metal roof snow guards. Our snow guards for metal roofing are functional, adaptable, and attractive. So whether you're looking for polycarbonate or metal snow guards, clear or colored, or if you are in need of snow retention that attaches to the metal roof with adhesives, mechanically with screws, or that clamp to the standing seam rib of your roof – we've got you covered.
Snow Guards for Roofers

Sno Shield snow guards and snow retention products are loved by roofers everywhere. All of our snow retention products were designed by roofers for roofers…
Snow Guards for Architects

As an architect you want your buildings to have style while meeting the functional needs of your clients. Utilize our snow stops with our patented color armor to achieve both…
Snow Guards for Home Owners

Many of our products are very simple to install and any do-it-yourself home owner with a little bit of coaching can get the job done. If you have questions, don't hesitate to ask…
See why
Sno Shield surpasses the competition!
Simply choose the style of snow guard that will work best for your roof and call us to place your order directly. If you're not sure which product you need, take a look at our summary of attachment methods. For your convenience it lists the advantages and disadvantages of each attachment method. If you're not sure how many snow guards you need, call us for a free customized layout and quote.
You may be interested in our snow rails.
The Deck Mount Snow Rail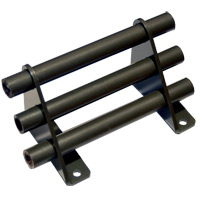 The Deck Mount Snow Rail, also known as pipe snow guards or pipe style snow retention, is a continuous system in which one can use a single, double or triple railing (pipe) to hold back the snow and ice from avalanching off a roof system. Our deck mounted snow rails accommodate most roofing applications.
If you have any questions about any of our snow retention products, please contact us for personal assistance.
Please check back often as we are continually adding new snow retention products and features to our website.