Snow fall and ice forming on roofs is just a fact life for most folks in the winter time, and protruding from most roofs are chimneys, pipes, satellite devices, or other outlets of sorts, that even a conventional snow guard cannot protect adequately. As a result we are now producing and holding a new, logical, and reliable solution for your roof-pipe peace of mind: the pipe diverter!
This unique type of snow diverter acts as a mini roof for any small pipe or outlet that extends up out of the main roof platform, and directs the snow, ice, or precipitation away from and around the pipe you are trying to protect. If you're in need of enhanced pipe protection, call us today to learn more about the pipe diverter, or order one online from our Rexburg based distributor, Roof Things.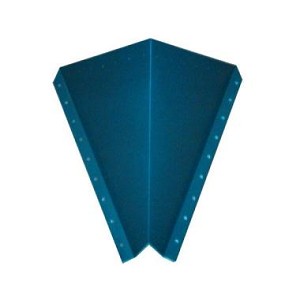 Specifications: 18″ base x 18″ width x 12″ height; 1″ flange; 18 pre-drilled 1/4″ installation holes; made of 18 gauge powder coated galvanized steel. Available in multiple colors.
AKA: chimney cricket, snow/pipe diverter, vent pipe snow guard, pipe roof.
DON'T LET THIS BE YOUR ROOF OR PIPE!