Snow Guards by Sno Shield
---
Snow guards manufactured by Sno Shield offer the best design of any on the market. The thing that sets our snow guards apart from the rest of the industry is our use of a one of natures strongest shapes, the triangle. Triangles possess a unique ability to bear large loads without deforming. A triangle will only collapse if materials fail, unlike rectangles which distort and collapse when pressure is applied to one side.
After spending years on roofs and seeing which snow guards fail, we determined the "L" shape was by far the weakest of them all. In a close second place were snow guards that have a large head and small base. These wing shaped devices were often bent and disformed. The last thing to watch out for when selecting snow guards for your roof is to make sure there are more than two set screws. If only two set screws are used then make sure they are not placed side by side, but rather above and below each other. When placed side by side, this creates a teeter totter and the sliding snow will slowly pull the set screws out of your roof creating small leaks.
For Roofers

Sno Shield snow guards and snow retention products are loved by roofers everywhere. All of our snow retention products were designed by roofers for roofers…
For Architects

As an architect you want your buildings to have style while meeting the functional needs of your clients. Utilize our snow stops with our patented color armor to achieve both…
For Home Owners

Many of our products are very simple to install and any do-it-yourself home owner with a little bit of coaching can get the job done. If you have questions, don't hesitate to ask…
Innovative Snow Guards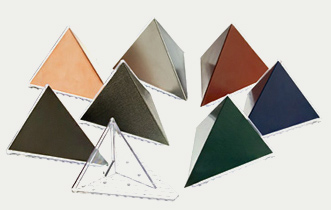 Sno Shield™ offers the only snow guards in the roofing materials industry that have the ability to combine polycarbonate and metal together into one product. Our adaptable line of snow retention products blend the functionality, reliability, and strength of polycarbonate plastic with the appearance, attractiveness, and decorative appeal of metal. The versatility of our products combined with the ability to customize and match each roof results in a superior snow retention system.
Color Armor™ is our unique, patent-pending snow guard cover that is made from the exact same material as the roof. This new product gives you the ability to cover polycarbonate snow stops with an attractive outer shell that matches the roofs color. Color Armor™ can be made from virtually any metal roofing material and powder coated in any color for a flawless match that lasts the lifetime of the roof.
Beyond the conventional snow stops, at Sno Shield we also offer snow retention in the form of a snow rail which is often referred to as a snow fence. Snow Rails are popular on commercial projects where larger spans of roofing need to have snow retention systems placed. We offer both a bolt down and standing seam clamp style snow fence.
If you are looking for the best defense against snow and ice, you have come to the right place. Whether you are a full-time roofer, architect, or the do it yourself home owner, we have an answer for you. Please use our tools above and to the right to find the right snow stop or snow fence to fit your snow retention needs.
Our snow retention systems are used all over the US and Canada to protect people and plants from dangerous sliding snow, as well as to help prevent additional hours of shoveling snow when snow falls off of the roof on to the driveway. You may burn almost 400 calories per hour shoveling snow, but you also burn time that you could be doing other things. Watch the following slide show and then take the necessary steps today to protect yourself and save you precious time by ordering Sno Shield's products.
Sno Shield Features & Benefits
Designed by roofers from snow country
Can be matched to any color roof
Protect people, plants, and property
Help prevent law suits
Easy to install
Made in the USA
Watch our installation tutorials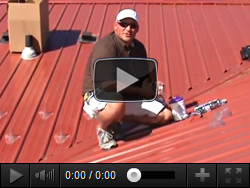 Sno Shield Product Overview