Clamp-to-Seam Snow Rail for Standing Seam Metal Roofs           |           Deck Mount Snow Rail Exposed-Fastened Roofs           |           S-5!® / Sno Shield™ Snow Rail
          Metal and Plastic Snow Guards           |           Snow Diverters & Dormer Door Snow Diverter           |           ChemLink Snow Shoes, Adhesives & Sealants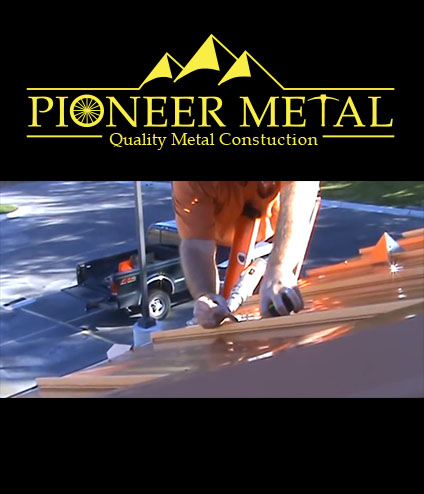 Sno Shield™
S-5!®
HotEdge™
Snow Defender™
ChemLink™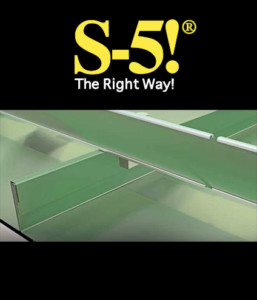 Roof Clamps
Mini Roof Clamps
ColorGard®
Solar Accessories
Utility Components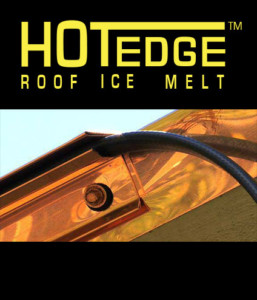 Asphalt Shingle Roofs
Metal Roofs
Slate Roofs
Wood Shake Roofs
New Construction
Sno Shield™ Inc. has teamed up with S-5!® and HotEdge™ offering a premium selection of roof snow systems which include snow guards, snow rail and roof ice melt systems. This combination of quality systems is only found here. Snow guard devices and protection against ice dam build-up is becoming more necessary as people choose the advantages of a metal, tile and slate roofs.

How do I keep snow from sliding off my roof?
The answer is Snow Guards. What is a snow guard? A snow guard is a large or small, metal or plastic item that keeps snow on a roof. The goal is to keep the snow on the roof until the sun melts it enough that it can break up and fall off in manageable sizes.
Have you ever heard of a rooftop avalanche? That is when the entire mass of snow sheds off the roof all at once. In some cases this is not a big deal, but with metal, slate and tile roofs become more popular people and things are in real danger.
Why should I use snow guards on my roof? Does it really matter?
Yes, you should use snow guards on your roof, and yes, it does matter. It is like living in a hot and humid area and asking yourself if you should invest in pest control or not. If you do, your home will be mostly bug free. If you do not, spiders, snakes and other insects will roam in and out of your home freely. No one likes to see bugs in their home, especially if little children are present who are likely to roam just as freely.
If you invest in snow guards, your home will be mostly hazard free from falling snow and ice. If you do not, a mass of snow will badly injure or kill someone, rip off gutters, block doorways, smash cars, patio furniture, landscaping and anything else smash able, and pipe protrusions will be bent or ripped off. The answer is simple, yes snow guards are important. You can spend year after year replacing gutters, fixing damages or morning the loss of a loved one or you can purchase a snow guard system one time, maintain it, and stay safe and protected.
DO NOT ONLY place snow guards over doorways and windows. It is like using and umbrella with gapping holes and it is pouring rain. You are not going to stay dry.
Snow Guards by Many Names
The term "snow guard" is a relative depending by what you know the product as. Other terms that mean the exact same thing as a snow guard include: snow stop, snow cleats, roof guards, snow pads, snow bird, snow jacks, snow block, ice guards, gutter guards, snow retainer device, snow cleats, snow rail, snow fence for metal roofs, snow retention, roof-top device that keeps snow on roof, ice stops, snow trapper, jumbo snow guard, mini snow guard, snow bracket, plastic snow guard, metal snow guard, standing seam pad-style snow guard, clamp to seam snow guards, standing seam snow guards, snow clip, , snow shoes, ice guard, ice break, pipe style snow guard, bar snow fence, ColorGard®, X-Gard™, SnoRail™ and SnoFence™. No matter what it is called, they all serve the same purpose, but their effectiveness in a given circumstance varies.
What kind of snow guard should I use?
Snow Guards come in two forms: individual pieces or a continual rod or pipe system known as snow rail or a pipe-style snow guard. There are pros and cons to each and the one you should purchase depends on where you live, the roof pitch and dimensions, how much snow you experience in a given winter season and what you can afford. The best thing to do is call and ask for advice if you are now sure what you want. In some cases there is only one option, a rail system, but most roofs can get away with using individual snow guards or a snow rail system.
Can snow guards be used on my roof?
Snow Guards can be installed on almost every type of roof:
Standing seam metal roofs
Corrugated roofs
Shingle roofs
Slate roofs
Tile roofs
Wood shank roofs.
Ice dams still form on my gutters or roof edge even though I have snow guards on my roof?
Sno Shield™ has teamed up with HotEdge™ to in order to provide a complete system of snow retention and ice dam protection. Even with a snow guard or snow rail system ice dams are still probable. Ice dams are created when the warm air from inside the home warms the roof causing the most inner layer of snow to melt. When the water comes in contact with the cold outside air or gutter the water refreeze creating an ice dam. Ice dams if not dealt with promptly will grow and become a hazard to anything or anyone beneath it. Combining a HotEdge™ system with a roof snow system that we offer will provide you with the best protection possible against falling snow and ice and ice dams.